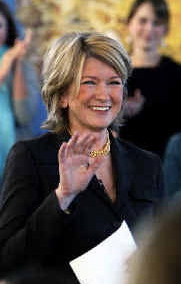 Maybe it's the rain and my corresponding desire to bake up something apply with a nice crust, but I've been listening to the soothing sounds of Martha the last few days while I've been working. The woman is an amazing maven of marketing if you ask me, just like Madonna only whiter and wiser. She's been able to create an empire out of nothing. It's not about personality. It's about identifying needs and meeting them. Wouldn't we all do well to emulate the Big M?
Lucky for us she's detailed her business philosophy in The Martha Rules: 10 Essentials For Achieving Success As You Start, Grow, or Manage a Business.
Although there's nothing groundbreaking in Stewart's book, if you can relate to her behind the cutting board you'll probably like her take on business too. Plus you get an inside peek at the woman and her life, including her time in the slammer at Alderson. Advice, inside information, and a recipe for success – what more could you ask for.
For a sneak peek at her style, here are Martha's 10 essentials for achieving business success:
What's passion got to do with it?
Ask yourself, What'd The Big Idea?
Get a telescope, a wide-angle lens, and a microscope.
Teach so you can learn.
All dressed up and ready to grow.
Quality is everyday.
Build an A-Team.
So the pie isn't perfect? Cut it into wedges.
Take risks, not chances.
Make it beautiful.
By the way – talk about reinventing herself, did you know Martha blogs? I don't even care if she writes it herself or not. I'm a blogger; she's a blogger. I'm in business; she's in business. We're practically twins, no?